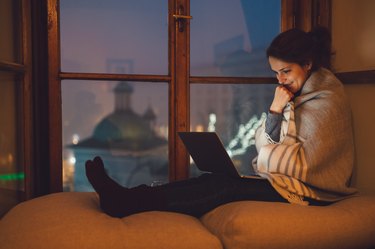 Whether you have difficulty hearing, need subtitles to understand a foreign film or just want to watch some videos in silence, you can get closed captions for your Hulu shows and movies on any device. The method for enabling the Hulu closed caption feature will depend on the type of device you use along with the version of Hulu you use. But once you do enable it, you should start seeing closed captions for future videos you play so that you won't have to worry about changing your settings again on that device.
Enable Hulu.com and Mobile Captions
For phones, computers and tablets, you'll click or tap the gear icon that appears on the top or bottom of a video you're playing. This will bring up a settings menu with some further steps that will differ by device.
Hulu Android and iOS app: If you're using the current Hulu app on a mobile device, you'll tap "On" underneath "Subtitles and Captions" and then select the desired subtitle language under "Subtitle Language."
Hulu Classic app: If you've got the classic Hulu app, you'll simply tap "On" for the "Closed Captions" option.

Hulu.com: When using the Hulu website, you'll simply click "Subtitles" to see available subtitle languages. Just tap the one you want to use.
Enable Hulu Captions on TV
Finding where to enable captions on Hulu when you use a device like an Amazon Fire TV Stick or Roku can be trickier since the method will depend on your system and TV.
First use your remote to access the Hulu settings option, which often involves swiping up when you're watching a video on your device. For devices using an older version of the Hulu app, you may need to swipe up twice to access the settings.

You should then be able to locate a "Subtitles & Captions" option. Choose the option to enable the captions and then set your preferred caption language.

Change How Closed Captions Appear
If you want to change the Hulu subtitles color, you can usually do so from within the Hulu app or website. In some cases, you may need to go into your device's main accessibility settings instead. In either case, you can choose a font style, color and text size to fit your preferences.
Hulu.com: When using the Hulu website, you'll find a "Settings" link in your subtitle settings that will bring up the subtitle formatter.

Hulu app for iOS: If you're on an iPhone or iPad, you won't be able to adjust the subtitle styles from the Hulu app. Instead, open the Settings app, select "Accessibility" and choose the "Subtitles & Captioning" option. You can tap "Style" to choose a preset or custom style for systemwide subtitles

Hulu app for Android and TV: For both Android devices and televisions, access the app's "Account" menu, choose "Settings" and then select "Subtitles & Captions" to see the formatter.

Troubleshoot Hulu Closed Caption Issues
Even when you turn on the Hulu closed caption option, you still may not always see captions when you watch videos. For example, commercials usually don't have captions, and some TV shows and movies may simply have no captions available yet. It helps to go check your settings again to make sure captions are still on.
You might also run into cases where the subtitle language isn't the one you want. While the desired language may be missing for some content, you can try going through the Hulu change subtitle language process to confirm and update your settings.
Lastly, you could notice that your captions don't line up well with the speakers on the screen. Fixing this bug can be as easy as rebooting the Hulu app or your device as well as seeing if the problem affects other videos. Hulu's support team can take any bug reports and try to help you get your subtitles back in sync.