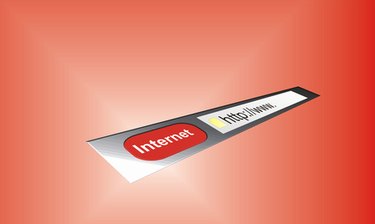 When the Internet was first available for use by consumers, many people found AOL, or America Online as it was then called, to be an easy way to get connected. This was when most home Internet connections were made over the phone lines. Now that most Internet travels at the high speeds of cable modem or DSL technology, you can still use AOL and it provides some helpful benefits.
Step 1
Contact a provider of broadband in your area and request a new installation. If you aren't sure who to call, check companies that provide cable TV or home phone service, since most of these provide high-speed Internet, also known as broadband. Depending on where you live, there may be several options, so you might want to shop around. These companies often give you a price break if you subscribe to several of their services, so you may get the best price if you go with a company where you are already a customer, but it's still a good idea to shop around. Another way to get information is to ask your neighbors what companies they use to connect to the Internet.
Step 2
Tell the installer you are an AOL member. Depending on the company, they may help you get AOL set up to work with your broadband connection. Even if they don't, it's best to let them know you have AOL, because they may otherwise try to give you an email address associated with their Internet service, which you may not want or need.
Step 3
Make sure you have the latest version of the AOL software. Visit AOL keyword "upgrade" to find out, and to get the latest version if you don't have it.
Step 4
Run AOL and see if it automatically connects using your new broadband connection. Two easy ways to tell are to listen for the dialing and connecting noise the phone modem makes; you won't hear this noise when connecting via broadband. Another option is to disconnect the phone line from the computer and see if you still are able to access AOL. If you don't want to disconnect the phone line, a third option is to try connecting to AOL while you're talking on the phone. If you're still not sure, or if it's still using the dial-up connection, click on "Select Location" on the AOL main screen, or look for the "Connection" drop-down menu. Select "Broadband" or "ISP/LAN" if one of these is not already selected.
Step 5
Change your AOL account. Broadband users can get AOL for free, if they want. You will still be able to use the AOL software, including your AOL email address, and you can get AOL customer support online. If you want more options, you can select their high-speed limited support option, which provides dial-up backup in case your broadband connection goes down, and security from McAfee, or the regular high-speed plan, which also provides technical support from AOL. Both of these come with a monthly fee, though it may be less than what you were paying before.
Step 6
Enjoy your new AOL with broadband. You will find the higher speed allows you to watch videos, listen to Internet radio and play games that your slower dial-up connection did not allow you to do before.