When you buy digital music from Amazon, you can listen to it on any computer through the Amazon Cloud Player on the Amazon website or through a desktop version of the player. Because Amazon sells its music as MP3 files without digital rights management, you can also download the songs to your computer and add them to your iTunes library. You can either download songs individually or -- with the desktop Cloud Player -- set songs to automatically transfer into iTunes.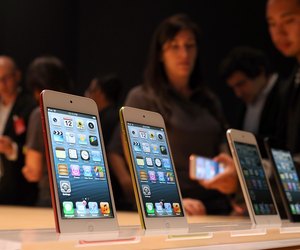 credit: Justin Sullivan/Getty Images News/Getty Images
Downloading Individual Songs
Step
Visit Amazon's website and log in to your account.
Step
Hover the mouse over the "Your Account" drop-down menu and click "Your Cloud Player." If you've never used the player before, a pop-up will ask you to agree to the terms and conditions before continuing.
Step
Mouse over the song you want to download to display a down arrow to the right of the song's title. Click the arrow and then click "Download."
Step
Click "Download my MP3" under the prompt about installing the Cloud Player. You do not actually need the player installed to download individual songs.
Step
Enter a name for your computer and click "Authorize Device." This prompt only appears the first time you download a song on your computer.
Step
Open iTunes and drag the downloaded MP3 into the iTunes library window.
Automatically Adding Songs
Step
Open the desktop version of Amazon Cloud Player. If you've never used it before, log in with your Amazon account.
Step
Click the menu icon and pick "Preferences."
Step
Choose "iTunes" under the "Export Downloads to" section and then close the preferences window.
Step
Drag the songs or albums you want to download into the "Download to my computer" section of the program. When the download finishes, a pop-up displays that the songs have automatically been added to iTunes. You can now quit the Cloud Player and listen to your songs in iTunes, even while not online.