Watching streaming video at home reduces the need to leave your home to rent videos and eliminates late fees. Netflix provides streaming video service directly to your Sanyo TV with just the push of a button. Once you've subscribed to the Netflix service, you're able to activate up to six Netflix-ready devices on which to stream videos from the Netflix queue. Adding your favorite movies to watch instantly from your queue takes only moments to complete.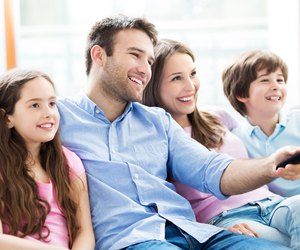 credit: PIKSEL/iStock/Getty Images
Step
Connect your Sanyo television to your Internet connection via a wired or Wi-Fi router. Use the Ethernet cable for a wired connection, or use the on-screen prompts to enter your network password for a wireless connection.
Step
Locate the on-screen Netflix icon on the screen by pressing the LiNKS or @Net remote control button.
Step
Press "Enter" and choose "No" to sign up for a new Netflix account to receive an activation code. Otherwise, choose "Yes" and write down the activation code provided.
Step
Enter the activation code by logging into Netflix in a browser window on your computer. Your Netflix movies are ready to watch on your television.