Moving the pictures off of your digital camera's memory card and onto your computer is a very easy task. Once you've got the pictures at your fingertips, edit them with your photo editing software and share them with the world.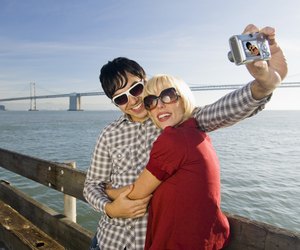 Step
Identify the type of memory card that you have. Some are normal size like an SD card in your digital camera. Many cell phones have microSD cards; these won't fit into a standard memory card reader and need an adapter. Adapters can be bought individually for each card, or you can buy a USB plug in device that has spots for these smaller memory cards.
Step
Plug your memory card into your computer or into a USB memory card reader. You should receive a dialogue box asking you what you want to do with the media -- select "View Files." If you don't get the dialogue box, go to "Start," "Menu," "My Computer" and double-click your memory card under "Devices with Removable Storage."
Step
Locate the folder called "DCIM." You'll probably see two more folders inside this folder. Select the top one and you should start to see your images coming up. Change the icon view to "Large Icons." Click on the "Views" button until the files are large enough for you to clearly see what each picture is.
Step
Leave the folder open so you can still view all the photos, and minimize all windows so that it's just the desktop. Right-click on the screen and select "New" and "Folder." Name this folder so you'll remember what's inside it.
Step
Double-click and open your new folder. Move it to one side of your screen. Maximize the DCIM folder so you can see all your photos. Press "CTRL" + "A" (this will highlight all the pictures), and then press "CTRL" + "C" (this will copy all). Click back onto your computer's new folder and press "CTRL" + "V" (this will paste a duplicate of your pictures into your new folder).
Step
Remove all the pictures off your memory card and clear up some space by returning to the DCIM folder and selecting the photos a second time. Hit your "Delete" key to delete the photos. You can also cut the photos off your memory card and paste them into your computer's folder by holding down "CTRL" + "X" instead of "CRTL" + "C."
Step
Go to your picture folder you created and delete any bad photos that you don't want. It's a lot easier to do it here than on the camera itself.