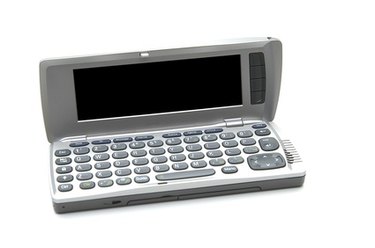 Your old cell phone may still have a few tricks up its sleeve. Although it may not have the newest bells and whistles, you can still download applications to get additional use out of it. Push-to-talk applications, for example, can turn cell phones into walkie-talkies with unlimited range. Your cell phone will be able to instantly connect to another device using the speaker phone. Access your old phone's application store to download a suitable push-to-talk app.
Step 1
Open your old cell phone's application store. For BlackBerry devices, the application will be called "App World." Android-powered devices use the "Market" application store, while iPhones use the "App Store." The application store will display all the available applications for download on your phone. Select the application store's icon to open the program.
Step 2
Access the application store's search utility. Click on the link titled "Search" or a magnifying lens icon. In the provided space, type "Push to Talk," "Walkie Talkie" or something similar. Click "Enter" or "Search" to begin searching the directory for suitable applications.
Step 3
Review the search results. Choose an application from those listed in the search results. Click directly on the application or press the phone's "Select" button to open a description of the application. Keep the application if it provides walkie-talkie functions. If not, choose another application from the search results.
Step 4
Click the option on the application titled "Download," "Install" or something similar to initiate the download process. Allow several minutes for the app to completely download on the device. Accept the "Terms and Conditions" of the app in the new pop-up wizard and click "Install" to complete the process.
Step 5
Use the walkie-talkie application. Click directly on the application or select it from the phone's menu. The application will provide walkie-talkie function with members of your address book with the same application.