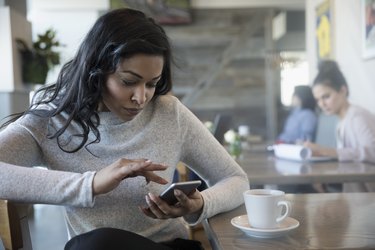 Social media is a ubiquitous element of the modern digital experience. Now, more than ever before, individuals from all walks of life are using social media to connect with old friends, make new acquaintances and keep informed about the important details that shape their perspective on life. Although you may find yourself drawn to the constant stream of updates that social media provides, there are also times when you probably would prefer to hide posts on services such as Facebook that you don't want other individuals to see or you don't want to see yourself.
Hiding and unhiding a Facebook post can be accomplished relatively easily when you know how to work your way around the system. The process varies slightly whether you are hiding a post on your personal account, or on a Page or Facebook group you manage.
Hide and Unhide a Post on a Facebook Page
Hiding a post you or someone else shared on a business or activity Page removes it from the Page but not from the Page's activity log, which only you and other managers of the Page can see. To hide a post from a Page you manage, go to the post on the Page's timeline. Click the icon in the top-right corner and select "Hide from timeline."
To unhide a post that you've hidden from a Page, go to the "Activity Log." In the Activity Log, you can see a detailed overview of every posting you have made, along with other interactions related to the Page.
Now that you can see an overview of your postings, you can begin selecting specific content that you want to either hide or unhide from the page. To do this, scroll down to a specific post that you plan to edit. On the far right side of the post is either a hollow circle icon or a circle with a diagonal line bisecting it. The former icon represents a post that is not hidden, while the latter represents a post that is currently hidden. Click this icon next to the post you want to unhide and select "Allowed on Page."
Hide a Post on Your Timeline or News Feed
You can hide any post that you or anyone else made on your profile's timeline by clicking the icon in the upper right corner of the post and clicking "Hide from timeline." To unhide a post you've hidden, click "Activity Log" at the bottom of your large profile cover photo. Locate the post in the Activity Log and mark it to unhide.
You can also choose to hide any post that shows up on your personal news feed on Facebook. Click on the icon in the upper right corner of the post to open a menu of actions you can take. Among them are "Hide Post." Click this entry to hide the post from your news feed. You can also choose to hide all the posts that that particular sender or to "snooze" posts from that sender for 30 days.
If you have any additional questions about this process, you can browse Facebook's helpful resources. You can also contact Facebook's support team directly via email if you continue to have problems with the visibility settings on your postings.