Since 1964, Bose has created high-end speakers and sound systems. The design of Bose's 3-2-1 DVD Home Entertainment Systems—GS and GSX series—allows anyone to use radio, CDs, cable or DVDs through a central media hub connected to Bose speakers. Connecting your cable box to the Bose 3-2-1 sound system isn't difficult. It only requires that you have the correct cables for your desired audio and video connection.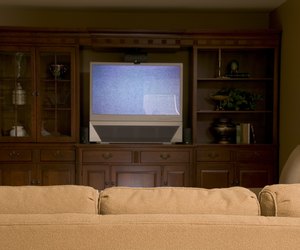 credit: Jupiterimages/liquidlibrary/Getty Images
Step
Purchase a stereo audio cable featuring red and white plugs. If you also want a digital audio connection, purchase a digital audio cable featuring optical or coaxial plugs. To incorporate a video signal, purchase two composite or S-video cables.
Step
Look on the back of your cable box for red and white "Audio Out" connector ports. If your cable box doesn't have these ports, refer to the Tips section. If a cable is plugged into the ports, unplug the end attached to your TV. If not, push the red and white plugs of your purchased stereo audio cable into the respective ports.
Step
Push the other plugs into the respective red and white "CBL-SAT Audio In" connector ports on the back of your Bose 3-2-1 home entertainment system media center—the second three-port vertical row of ports on the left side.
Step
Find the digital audio optical or coaxial connector port—labeled "Digital Audio Out," "PCM Out," "Optical Out," SPDIF Out" or "Dolby Digital Out"—on the back of your cable box and plug one end of your digital audio cable into the port.
Step
Insert the other end of your digital cable into the applicable digital "Audio In" port on the back of your Bose 3-2-1 home entertainment media center.
Step
Pass your video signal through the media center by connecting one end of a composite or S-video cable to the back of the cable box and the other to the applicable port "Video In" connector port on the back of the media center. Connect one end of the second cable to the "Video Out" port on the back of the media center and the other into the "Video In" port on back of your TV.