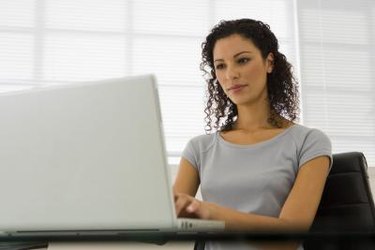 Many people accustomed to working with spreadsheets use Microsoft Excel for a host of tasks related to keeping track of their important information. Maintaining a schedule of appointments might be included among these tasks. When using Outlook for managing personal information, knowing how to import a calendar created in Excel becomes essential. Outlook offers far more robust scheduling tools and the ability to easily share appointments with other Outlook users.
Step 1
Open Excel and select the data range containing the appointments you wish to move into Outlook by dragging your mouse over the cells that include your appointments.
Step 2
Name the data range by clicking in the field just left of the formula window and entering the desired text.
Step 3
Select "File" and "Save As" from the main menu. In the Save As dialogue box, select "Excel 97 - 2003 Workbook" in the "Save As Type" pull-down menu.
Step 4
Open Outlook. Click the Calendar shortcut button. Select "File" then "Import and Export."
Step 5
Select "Import from another program or file" in the Import and Export Wizard dialogue box. Click "Next."
Step 6
Select "Microsoft Excel 97 – 2003" as the file type to import and click the "Next" button.
Step 7
Click the "Browse" button to select the Excel file saved in step 3. Click "Next."
Step 8
Highlight the calendar where you want the data imported and click the "Next" button.
Step 9
Check the box next to the listed action.
Step 10
Match the fields defined in your Excel data with the available fields in Outlook's calendar. For example, if you used "Where" to title the Excel column that includes data about where the appointment is, you will need to use the "Location" field in Outlook. Select the imported fields and use your mouse to drag the Excel field over the Outlook field. Fields with identical names will be matched (or "mapped") automatically.
Step 11
Click the "OK" button when you are finished mapping all fields and click the "Finish" button. Your appointment calendar will now be imported into Outlook.
Tips & Warnings
Avoid having to manually match your Excel calendar fields to Outlook by renaming the field names in the first row of your Excel calendar before saving the file for import into Outlook. Principle appointment field names used by Outlook are: Subject, Location, Start, End, and Duration.