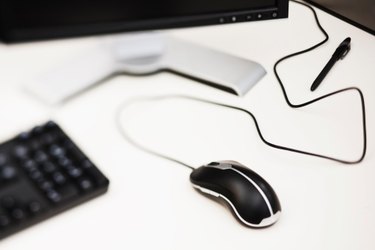 Virtual graphics memory became available with the Windows XP operating system. This allots a certain amount of virtual memory to your computer's graphics system. Your computer examines your RAM and finds areas that have not been recently accessed or used. It uses these empty areas of RAM as virtual memory, allowing your computer to render graphics faster and more efficiently. Many applications such as games or photo-editing software may require a higher amount of virtual memory. If this happens, you will receive a pop-up box stating that your virtual memory is low. You can increase the size of your virtual memory through the Control Panel. Changing the virtual memory in systems running Windows XP or newer can be done by following a few steps.
Step 1
Click the "Start" button and open your Control Panel. Click the "System and Maintenance" button and then select the "System" option.
Step 2
Select "Advanced System Settings" in the left pane of the window. Enter the administrator password if you are prompted.
Step 3
Click the "Settings" box at the top of the pop-up window under the "Performance" section.
Step 4
Click the "Advanced" tab and in the virtual memory section click the "Change" button.
Step 5
Unselect the option "Automatically manage paging file size for all drives."
Step 6
Select the radio button beside "Custom Size." Enter new values into the Initial Size and Maximum Size value boxes and click the "Set" button, then click "OK."
Step 7
Exit out of the system windows and close the Control Panel.