Adding a check mark symbol to a PowerPoint presentation can be accomplished in two ways. In one method you can enter the symbol as if it were a character you type on the keyboard. With this method you can adjust its font size, color and other font attributes. The other method is to insert a picture or clip art image of a check mark directly into your presentation. Depending on the flow and design of your presentation, one of these methods may be better for you than the other.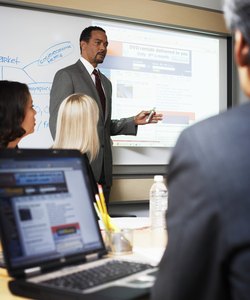 credit: Christopher Robbins/Photodisc/Getty Images
Insert a Check Mark Using the Symbol Command
Step
Click "Insert" from the top menu of PowerPoint, then click "Symbol" from the "Text" group of options.
Step
Select "Wingdings" from the "Font" drop-down menu. Scroll to the bottom of the symbols list. The check mark symbol is in the bottom row. Click the check mark symbol, then click "Insert." Click "Close" when you are done inserting symbols.
Step
Highlight your check mark symbol and adjust the font size and color just as you would for any other text.
Insert a Check Mark Picture or Clip Art
Step
Click "Insert" from the top menu of PowerPoint, then click "Picture" from the "Illustrations" group of options.
Step
Navigate to the folder with the picture of your check mark and click the file, then click "Open."
Step
Click on one of the four corners of your image that is inserted. There are small circles as a guide to click. Drag your mouse to scale the image larger or smaller depending on your needs. Hover your mouse inside the image and click to drag the image to the specific location you want the image to appear.