When creating presentations in PowerPoint, spice things up by inserting animated GIFs into your slides. After inserting a GIF image using PowerPoint's Pictures function, you can move the image to any location within the slide, increase or decrease its size, and even rotate it to any angle.
Step 1
Select the slide where you want the animated GIF to appear in the left-pane. Open the Insert tab and then click the Pictures button on the Images group.
Step 2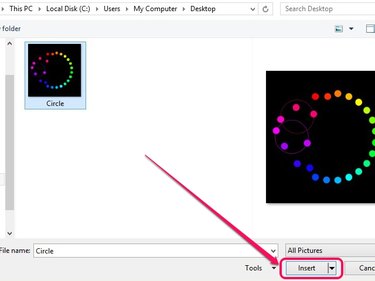 Select the GIF file from your hard drive and then click Insert.
Tip
Animated GIFs with higher resolutions can dramatically increase the file size of your PowerPoint presentation. Rather than inserting the file into the presentation, you can create a link to the file by clicking the arrow-shaped section of the Insert button and then clicking Link to File. This will keep the file size smaller. Linking to a file also updates the presentation automatically when changes are made to the file. If you move the GIF to a new location on your hard drive, however, the image won't display on the presentation anymore. To add the file to PowerPoint presentation while also updating it when changes are made to the source file, click Insert and Link instead.
Step 3
Position the cursor over the GIF image, and then click and drag the file to move it within the slide. Use the square-shaped sizing handles surrounding the image to change its size or the rotation handle above the image to rotate it.
Warning
Increasing the size of low resolution GIF images can make them appear blurry.
Tip
To preview the presentation, click the F5 key or the Start From Beginning icon on the upper-left of the PowerPoint window.