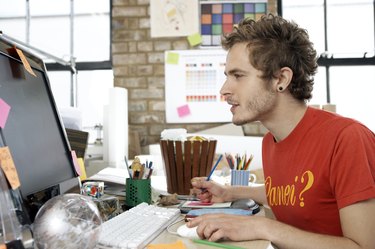 Realtek is a computer hardware manufacturer based in Taiwan that produces a range of products such as Ethernet cards and audio drivers for certain sound cards. Sound cards require driver software to function properly. If your computer is not playing sound properly, you may have to install new sound drivers; upgrading your sound drivers may also improve sound quality and options. There are a few different ways to obtain and install Realtek sound drivers.
Update your Sound Card Automatically
Step 1
Click "Start," right click on "Computer" or "My Computer," select "Manage" and click on "Device Manager."
Step 2
Double-click on "Sound, video and game controllers" to expand a list of your system's hardware.
Step 3
Right click on the sound card, select "Properties," click the "Driver" tab, click "Update Driver..." and choose "Search automatically for Driver updates." Your system will attempt to install any relevant driver updates; if it succeeds in installing an update, you may be prompted to restart your system.
Install Drivers from Your Computer Manufacturer
Step 1
Click "Start," right-click "Computer" or "My computer" and select "Properties." Information about your computer, such as the manufacturer and model, will be listed here.
Step 2
Go to the website of your computer system's manufacturer and search for driver downloads for sound drivers made for your computer model. Realtek recommends that you download the latest drivers from your system/motherboard manufacturer's website instead of their own website, since your system manufacturer may include extra features specifically made for your system.
Step 3
Download any drivers available for your system and run the install or setup executable file that you download. A driver installation wizard will appear and guide you through the installation process. Restart your computer if prompted.
Download and Install Drivers from Realtek
Step 1
Go to Realtek's audio driver page (See resource link 1 at the bottom of this page.).
Step 2
Select "AC'97 Audio Codecs" or "High Definition Audio Codecs," based on the type of sound device you have (Follow the steps from section 1 and check the information under "properties" to check what type of sound device you have.)
Step 3
Click "Software," check the box next to "I accept to the above," click "Next," scroll down the list of divers and click one of the "Go" links next to a driver listed as "executable" (as opposed to zipped) and compatible with your operating system. Choose to save the file to your desktop.
Step 4
Run the executable file that you downloaded and follow the instructions of the setup wizard to install the driver. Restart your computer if prompted.