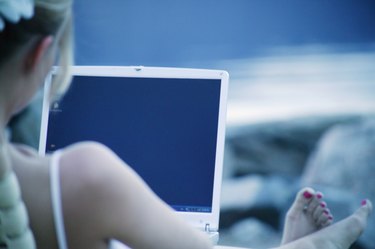 When you buy a new computer, it usually comes with an operating system installed on a hard drive partition, but if you're building a computer or replacing a hard drive, you need to install an OS from scratch. If your computer came with a recovery partition containing an OS installation image, you can boot into this image to reinstall your OS. Otherwise, you need a USB drive or DVD containing the bootable disk image so that you can temporarily boot from this medium to format your hard drive and install the OS.
Booting Into an Installation Medium
PC motherboards usually offer two ways to boot into an alternative medium. You can configure your default boot drives from the firmware interface, or you can choose a temporary boot device when you turn on your computer. The splash screen displayed when you power on your PC is part of a firmware interface installed on your motherboard, and it contains instructions for booting into your BIOS utility or choosing a temporary boot device. Usually, you select an option by pressing "F2," "F12" or a laptop hardware key. With the DVD or USB drive inserted in your computer, choose the appropriate option from the temporary boot menu or follow the BIOS utility instructions to permanently configure your boot-drive order.
The Windows Installer
If your PC came with a recovery partition, your startup screen or BIOS utility contains instructions for booting from this image. After you boot into the installation image, the installer walks you through the steps to format your disk, enter the product key and install the OS. The disk menu prompts you to partition your hard drive and choose a location for the operating system. You can create a partition by clicking "New," delete one by clicking "Delete" or erase its data by clicking "Format." For 64-bit Windows, you need at least 20GB of free space, and for 32-Bit Windows, at least 16GB. However, to make room for files and applications, you usually need around 40GB. After selecting a partition and installing Windows, your computer restarts several times and then boots into your new operating system, which you can configure by following the on-screen instructions.
Installing the Latest Mac OS X
Installing OS X works differently because you can only get the disk image from the App Store, and you can only access the App Store from OS X. This system works for most people because Macs come with OS X, and you can upgrade to the latest version by purchasing it from the App Store and double-clicking the installer. You must own a license for an OS X version compatible with the upgrade to the latest version; check your version number by clicking the "Apple" menu and selecting "About This Mac." For advanced users, Apple includes a bootable disk creator with new installation images. If you're comfortable entering commands in a terminal, you can refer to the Apple website for the commands to create a bootable medium from the installation image.
Linux on PC or Mac
Most Linux distributions are free because they use mostly free, open-source software to provide instructions to your hardware. Whether you have a new or old PC or Mac, you can install a user-friendly distribution such as Ubuntu or Mint as easily as installing Windows or OS X. If you have an older Mac with a PowerPC processor, you need to install the PPC Linux kernel, which is available from the Ubuntu, Mint or Debian website. Most new hardware requires little configuration after the installation because the Linux kernel includes modules for most modern hardware. Ubuntu and Mint help new users install additional drivers and set up their new desktops after the installation, so you don't need to be a computer expert to use these operating systems.