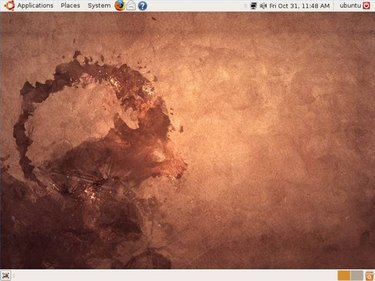 This article assumes you have no knowledge of Linux and want to give it a spin. Not long ago, installing Linux required trudging through a vast, text only, process. For the uninitiated, it was downright scary because wrong move could easily result in a broken installation or even a deleted partition. Because of the hard work of dedicated Linux users, the process has come a long way. Now, installing Linux is arguably easier than installing Windows. Here, I'm going to explain the simplest way to install Ubunty Linux using a program called "Wubi." Wubi lets you install Linux just as you would any other Windows program. If you want to dual boot Linux and Windows, there's little reason to do it any other way.
Step 1
Download Wubi (from the link below) to your desktop and run the executable program.
Step 2
Choose the drive where you want your installation to go. Unlike other installation methods, Wubi will not repartition your drive. Instead, it will place a file on your local drive which it will use as a virtual hard drive. In most Windows installations, C: is the local hard drive, so choose it from the dropdown menu as your installation drive. Again, do not worry -- this will not overwrite your data!
Step 3
Choose an installation size. The base installation requires about four gigabytes. Since you'll want some room to install programs and store your data, choose a size larger than that.
Step 4
Select one of the four desktop environments for your installation. Wubi can install Ubuntu, Kubuntu, Xubuntu, and Edubuntu. These are all variations of Ubuntu cut from the same cloth, but all "feel" different. The default Ubuntu installation uses the Gnome desktop, which is relatively lightweight -- some say it's akin to OS X. Kubuntu uses KDE for its desktop and feels more like Windows. Xubuntu's desktop is Xfce, which is much like a lightweight version of Gnome. It's best for older hardware. Edubuntu also uses the Gnome desktop, but also installs dozens of educational programs especially useful for K-12 students. Here, we're going with the default Ubuntu (Gnome) installation.
Step 6
Input a username and password for your installation. Don't forget these -- unlike Windows, Linux uses your username and password extensively: you'll need them to log on to your computer, install programs, and make changes to the system. This is done for security reasons.
Step 7
Click "Install" and Wubi will begin downloading the installation files. The download is about 600 megabytes, so get some coffee or let it run overnight.
Step 8
Once the installation files are downloaded, you'll be asked to reboot your system. When you do, your computer will restart, but instead of booting directly into an operating system, you'll see a screen that asks you to select whether you'd like to boot Windows or Ubuntu. Choose Ubuntu to complete the installation.
Step 9
Once the installation has finished, you'll have a completely functional Ubuntu Linux install. Ubuntu does a great job of detecting and installing hardware, but if you find that something doesn't work right, visit the Ubuntu forums and see if it's a known issue. There are hundreds of people there who are excited you're trying Linux and they're willing to help you out. If you have a question, don't be afraid to ask!