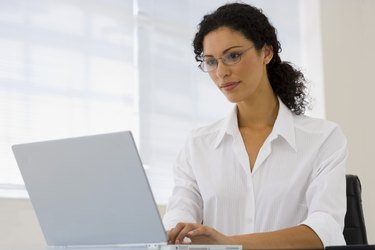 Video drivers are applications that enhance your on-screen display. The drivers make your text and images sharper and clearer. Some devices and applications may corrupt display drivers. You can, however, repair the drivers in Safe Mode. Safe Mode is an area of Windows that only allows a limited number of applications to run, thereby making it ideal for repairing and restoring your display driver.
Step 1
Click the Windows "Start" menu and click the "Control Panel." Double-click "System and Maintenance" and click "Device Manager" to launch the hardware management console if you are using Windows Vista or 7. For Windows XP users, right-click "My Computer" on the desktop and click "Manage." Click "Device Manager" to launch the hardware management console.
Step 2
Click the "Display Adapter" to expand it. Make a note of the video driver that contains a question or exclamation mark. A question or exclamation mark means the video driver is either damaged or missing. Close the Device Manager. Write down your computer's model and serial number. The location of the serial number varies with different computer models but can generally be found on the front or back of your computer.
Step 3
Go to your computer manufacturer's website and locate the "Support and Drivers" section. Locate "Driver Downloads." When prompted, type your serial or model number to locate the drivers compatible with your computer. Click "Download" next to the video driver compatible with your computer. Select "Save" and download the video driver installation file on your desktop.
Step 4
Restart your computer and press "F8" repeatedly before Windows reloads to launch the Advanced Options Menu. Select "Safe Mode" and press "Enter" to launch Windows Safe Mode.
Step 5
Double-click the video driver you installed and click "Run" to install the driver on your computer. When the installation completes, go back to the Device Manager and click "Display Adapters." Make sure that your video driver no longer contains a question or exclamation mark. If the driver still contains a question or exclamation mark, right-click it and click "Update driver." This launches the launch the driver installation wizard.
Step 6
Insert your Windows installation CD and click "Install software automatically (Recommended)" and then click "Next." The install wizard installs the video driver automatically.
Step 7
Restart your computer normally when the installation completes.