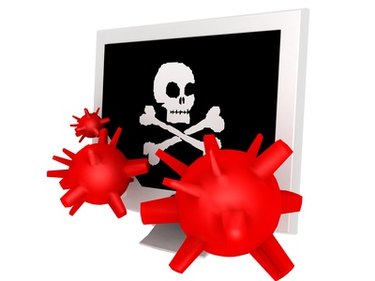 You take responsibility for keeping your computer safe from viruses by practicing smart Internet skills, only opening attachments from people you trust, and, of course, using an antivirus software like McAfee. Unfortunately, if McAfee isn't running properly, it can almost feel preferable to have a virus instead of an antivirus software that uses up all of your RAM. Use these steps to take action if McAfee is slowing down your computer and being a memory hog.
Address McAfee Memory Usage
Step 1
Check your task manager to see just what is occupying your CPU usage. The program mcshield.exe is often the McAfee related culprit. This critical function scans your computer to check for threatening programs, but can sometimes cripple computers by using up all the RAM.
Step 2
Make sure you have the most up to date version. Running an outdated version of McAfee antivirus not only leaves you vulnerable to new worms and viruses, but it can also mean that you aren't running the most efficient version of anti-virus. If you are a version behind, check out the McAfee website for discounts on updating your existing McAffee account. If you are carrying software for the current year, be sure to download updates on a regular schedule. McAfee has released patches in the past that have reduced memory usage.
Step 3
Get rid of unnecessary functions. McAfee runs a firewall that might not be needed if you are already protected by a firewall through your router or windows security. This can free up a lot of memory and help your entire system to run faster.
Step 4
See if another feature is interfering with McAfee. For example, some users have reported that Google Desktop hogs a computers CPU when it attempts to index McAfee. Go into your Google Desktop settings and exclude McAfee from its indexing list if you believe this might be slowing you down. This can help keep two known memory hogs from working together to form a memory monster.
Step 5
Keep as much free memory as possible. At the end of the day, the major antivirus programs are notorious memory hogs. Keep as much free memory as you can by closing out unused programs and periodically defragmenting your system. By keeping your RAM usage as lean as possible, you may be able to avoid feeling the negative affects when McAfee uses memory, because you'll have plenty to spare.