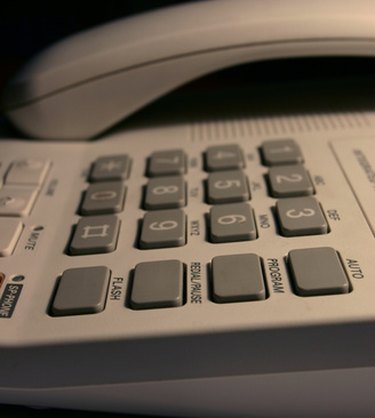 Avaya is a global leader in communications systems. Avaya recently acquired Northern Telecom and now has approximately 20,000 employees worldwide. To list Right to Use licenses on an Avaya phone system, the Avaya Site Administration application must be loaded and configured on a PC. This software application connects with the phone system over a network LAN interface and allows configuration, data listing, monitoring, reporting and testing on the system. A user name and password must be active on the Avaya Communication Manager phone system.
Step 1
Click the Avaya Site Administration program on your desktop and select the connection from the drop-down menu on the top right of the screen. Log into the Avaya Communications Manager with your user name and password. Click on system on the toolbar, then general, then start "GEDI"
Step 2
Type in the command "display system-parameters customer-options."
Step 3
The screen will display the first page of information of the customer optional feature listing of the RTU, or Right to Use licenses. Notice the 10 tabs on the top of the form.
Step 4
Use the mouse pointer to tab through the screens of license listings. On the top of the listing on screen No. 1 is the current software version and the system ID. The area on the left displays the description of the license, the second lists the RTU licenses and the third area on the right lists the amount of licenses currently used.
Step 5
Print or save the configuration file by clicking "File," then selecting the action you want to perform.
Step 6
Click "File," then "Exit" to log off the system
Things You'll Need
Communication Manager login account

Avaya Site Administration software

Network connection to Avaya CLAN gateway

Printer