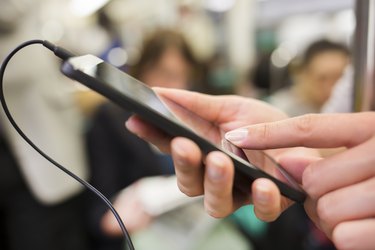 To listen to an audiobook on your iPhone 6, you first have to purchase the audiobook, and where you purchase it usually determines how you listen to it. You can purchase audiobooks through services like iTunes or Audible.com, download free audiobooks of public domain titles from sites like Librivox and AudioBooksforFree.com or borrow audiobooks from your public library using the Overdrive media console.
Listen With iTunes
Selecting and purchasing an audiobook through iTunes works exactly the same as purchasing music for your iPhone. Either use the Search field in iTunes for a specific title or select "Audiobook" from the list of categories in the store. Just as with music, you can play a brief sample, which is recommended in case the narrator has a voice that you'd rather not listen to for the many hours it takes to finish a book. When you decide on a book to purchase, click the button with the price next to the title.
If you purchase the title in iTunes on your computer, make sure to enable audiobook syncing on your iPhone. Do this by connecting your device to your computer and clicking on the "Books" tab from the row of tabs near the top of the screen. Near the bottom of the Books tab, make sure the box next to "Sync Audiobooks" is checked.
Listen With the Audible iPhone App
To use Audible.com content, first download the Audible app from the App Store, open the app and create an Audible account. At the time of publication, a monthly membership fee of $15 provides access to one free download per month and 30 percent off the price of additional audiobooks. When you purchase audiobooks on Audible.com, the title automatically appears in the Cloud tab of your Audible app. Click "Download" and begin listening.
When finished with a title, delete it from your iPhone. Audiobooks occupy large chunks of memory and each book you purchase is always available in the Cloud tab if you want to hear it again. There is also an iTunes tab in the app. You can sync audiobooks purchased through iTunes and listen with the Audible app.
Audible Audiobook Integration With the Kindle App
For select Kindle titles, Amazon offers an audio upgrade for a relatively small price. Purchase the upgrade with the book, and you can seamlessly switch between reading and listening. After purchasing the audiobook on your computer, find the Kindle app in the App store and download it to your iPhone. Then, in the Kindle app, find the title you purchased in All Items in the Library section of the main menu. Open the title and look for a headphone icon. Click on this icon and then click on the cover to begin downloading. This icon switches between headphones and a book icon to toggle between reading and listening.
If you prefer to only listen, Amazon offers audiobooks for sale separately as well. You can still use the Kindle app to listen on your iPhone or you can download the Audible app from the App Store.
Some titles, though Whispersync ready, have to be purchased separately from the Kindle print edition.
Listen to Free Audiobooks With OverDrive
There are multiple websites that provide downloads of free MP3 files of public domain audiobooks, such as Librivox and AudiobooksforFree.com. If you prefer getting more recent titles and don't want to pay, you can borrow from your local library with your iPhone.
Download the OverDrive app from the App Store and create your free OverDrive account. Then, choose "My Libraries" from the Home menu and click "Add a Library." You can search by library name or by ZIP code. After clicking on your library, log in using your library card number.
You can browse titles and categories or search for a specific book. When you find an available title you want to listen to, click "Borrow." You can listen by streaming audio or you can download the title. You may be asked to choose between types of audio files. Make sure you choose MP3 and not WMA.