Google's YouTube has expanded its live streaming service to all users in good standing so you can now chat live on YouTube through the Google+ Hangouts On Air service. Google has connected all of its services, so the live event you start on YouTube will be broadcast through your channel, your Google+ profile and any site that supports embedding YouTube videos. Live chats can work great for presentations you want save for later viewing on your YouTube channel.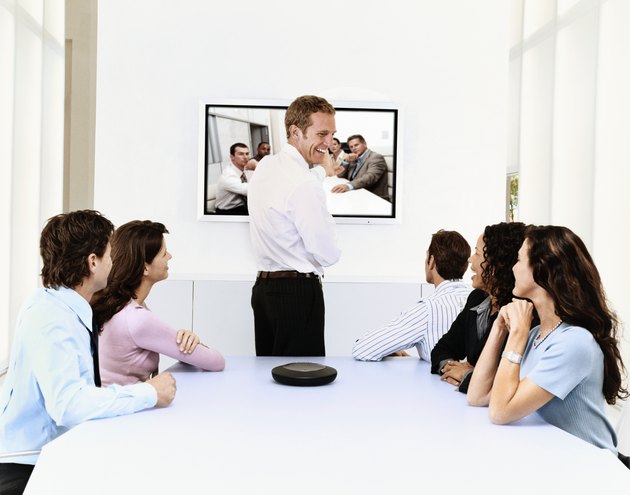 Enabling Your Account
Before you can live stream your event, navigate to the Features page of your YouTube account and click the "Enable" button next to Live Events (link in Resources). Verify which channel to use for future live streams. If you have a popular YouTube channel already, select it so your fans can quickly join you. If you're new to YouTube videos, select the option that lists your Gmail account and Google+ name because this will make it easier for your friends to find you. Verify your account and agree to the terms of service to enable live streaming. YouTube will add the Live Events option under your video manager.
Planning Your Event
To make sure your live chat is successful, reach out to your audience ahead of time. Talk to your friends, co-workers or YouTube fans and see when they're available to make sure you get good attendance. YouTube live chats offer different privacy settings so you can restrict who can join, or open it to everyone. Match your selected privacy setting with the announcements you make about the event; for instance, email your friends individually for private events, but post it on your blog if it's open to everyone.
Starting Your Event
Navigate to your YouTube video manager and click on the "Live Events" tab and then click "Create live event." Add a title, description, and time to your event. Users can join before the official start time and you'll be able to chat together on Google+, but the recording and YouTube broadcast start at your selected time. Remind your friends and others about the meeting via the message text box below the privacy setting, and selecting social networks or adding email addresses for reminders. Select the "Quick" encoding option unless you're familiar with Wirecast, Flash Media Live Encoder or other encoders that YouTube supports. Click "Go live now" once you're ready to begin.
Chatting Live
Your Webcam is the default video that's shown at the center of the screen when the live chat starts. Initially, only your video and audio are enabled so you won't be able to hear other participants. Use the Cameraman tool to allow others to speak during your chat or to add their video to the screen. If you're presenting, use the Q&A tool to allow Google+ members to type questions to you while you speak. Spice up your video by adding hats, graphics or other items through the Effects menu. Remember to thank everyone for attending and call out those who participated by name so they feel appreciated and are more likely to join you for your next YouTube live chat.