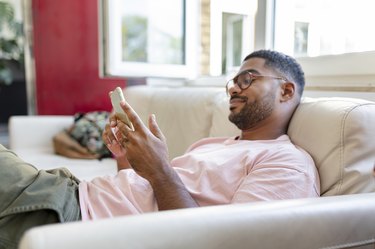 Message forwarding is a simple feature that works with both Android and iOS devices. Forwarding is commonly set up to push text messages and even voicemail messages into an email inbox. Email forwarding is also possible from a mobile device but the cell phone platform is irrelevant and the email service provider will require specific forwarding steps to execute the process.
Android Message Forwarding
Android message forwarding is done through the Google Voice app. Open the app and tap the menu to generate a list of options. Select Settings and navigate to the message settings. At this point, you have the option to forward text messages to linked numbers or an email address.
Forwarding text messages to linked phone numbers is a common practice in business. When one phone user is on vacation or out of service, messages are easily forwarded along to another business phone number. Simply enter the number or numbers for the forwarding, save the changes and make sure to remove the forwarding when the service is no longer desired. The same process is used for email forwarding.
Voicemail forwarding is only available to email. Using the same process, select Voicemail rather than Messages. This will forward voicemails directly to your email inbox for easy listening and storage without requiring access to the actual phone. This is useful while traveling to areas with WiFi service but no cell phone signal or access.
iOS Forwarding via Google Voice
iOS also offers email forwarding services through the same Google Voice process if the voice app is downloaded. The instructions are exactly the same for both text and voicemail forwarding. Not all iPhones or iOS devices use the Google Voice app, however, but the iOS platform has its own built-in forwarding process.
iMessage forwarding only works on compatible iOS devices. When a message is received by the phone, it can also be forwarded to an iPad, Mac computer or an iPod Touch. It will not however display on any Android device or non-compatible system that isn't operating on the iOS platform. For email specific forwarding, the Google Voice option is a better choice because the messages can be accessed from any device with WiFi to reach the email account.
Access the settings on your iPhone and select the Messages option. Next, choose Send and Receive then scroll down and select the Text Message Forwarding option. You must authenticate your Apple ID at this point to access the screen with connected devices. Choose the devices that will receive text messages.
You can quickly connect all of your Apple devices from this screen and the iPhone will automatically forward text messages to another phone or iMessage connected device. If you want to turn off the text message forwarding, use the same process and remove the devices that are no longer needed for message forwarding.
Text message forwarding is a handy tool but sometimes, another layer of forwarding is required. This often applies to timely business matters that must be handled when one employee is out of service. If all messages must be forwarded along to another person, setup forwarding in your own email account. Only do this if the person is qualified and trusted to see any personal or sensitive messages.
Otherwise, only forward text and voicemail messages to add an easy means of access while traveling internationally or outside of any reliable cell phone service. Text forwarding ensures you will not miss anything important when access to text messages is limited.