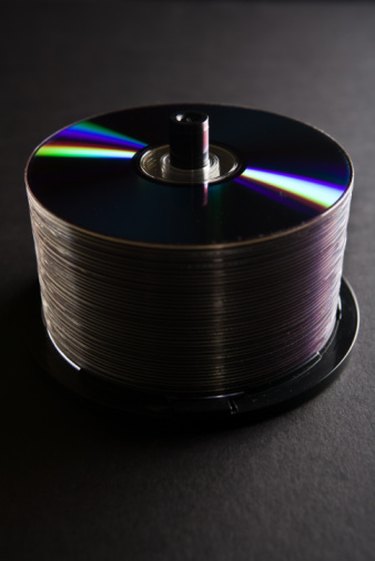 Making copies of your own discs can mean the difference between losing important files or having them stashed away for safekeeping. To accommodate the growing number of computer users producing self-authored media, Microsoft has incorporated a burning feature in the Windows 7 operating system. Windows provides the Mastered disc format and Live File System format for burning writable discs. The benefit of the Live File System format is that your CD will work in the same way as a removable flash drive, which means that you can transfer files to the CD immediately without having to burn them separately. You can use this system to create new data CDs and copy existing discs.
Copy CD
Step 1
Insert the CD you want to copy into the disc drive. Select the option to view the files on the disc when the dialog box appears. On some computers, the disc folder may open automatically.
Step 2
Click "Organize" in the upper left-hand corner of the file menu, then choose "Select All" from the dropdown list. Right-click on any of the selected files and use the "Copy" feature listed on the menu.
Step 3
Select a location from the left-hand panel where you can create a temporary folder, such as "Documents" or the "Desktop." Click "New Folder" at the top of the menu. You can rename the folder or leave the default setting.
Step 4
Right-click anywhere in the empty folder and select "Paste" from the list. Wait for the computer to finish the copying process.
Burn CD
Step 1
Remove the source disc from the computer and insert a blank recordable CD. Ignore the dialog box prompting you to select a method to handle the blank CD.
Step 2
Go back to the temporary folder. Click "Organize" and "Select All" again to highlight all of the files. Drag the files over to the navigation panel on the left and drop them on the disc drive folder.
Step 3
Click "With a CD/DVD Player" in the new dialog box. Type a name for the disc in the text box. By default, the date the disc is created will become the disc name.
Step 4
Click the "Burn to Disc" button at the top of the disc drive folder. Enter in the disc title again or leave the default name. Select your recording speed and click "Next."
Step 5
Wait for the computer to complete the burn process and click "Finish." You also have the option of burning the same files to another disc.