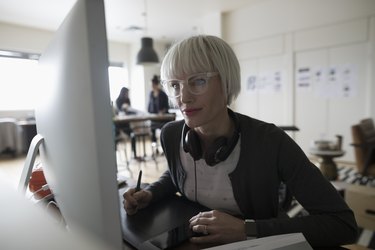 The terms table tent and tent card refer to a printed advertising display placed on a table in a restaurant or at an event. The display is made from folded paper stock or cardboard that is printed on both sides so that someone on either side of the table can read it. Creating one of these displays can be tricky since the text must be flipped to appear correctly on both sides. A tent card or table tent template can simplify the process.
Table Tent vs. Tent Card
Although table tents and tent cards serve similar purposes, they have slightly different designs. A table tent is folded into a triangle, with one side serving as a base. This type of display is durable. For example, a restaurant might put out table tents showing special desserts or cocktails. A tent card is folded once, like a greeting card. It is a temporary form of display that might be used at an event as a place card or to provide information about a food item.
Tent Card Template in Word
Microsoft provides a free tent card template in Word that you can access by creating a new document and searching online for a template using the term "Microsoft tent card." At least one template is currently available that accommodates four tent cards on a standard page. You type in the text right-side up, and Word automatically turns it upside down as needed. Download the template and create a new document with it. Then, add text and pictures to customize the design.
Table Tent Template
If you'd rather create a table tent, you should be able to find a simple template in Word with two table tents per page. In the Microsoft template, text is displayed sideways, even while editing, but it is right-side up after the table tent is printed, cut out and assembled. You may be able to find a more advanced table tent template from a third-party website, but make sure to only download templates from reputable websites to avoid the threat of downloading malware.
Avery 5305 Template
To create a tent card and have it professionally printed, you might want to use the Avery 5305 template. After you create a free Avery account on the company website, you can use this template with Avery Design & Print, an online design application, or download the template for use with Microsoft Word, Adobe Photoshop or Adobe Illustrator. You can print the final design yourself or have Avery print it.