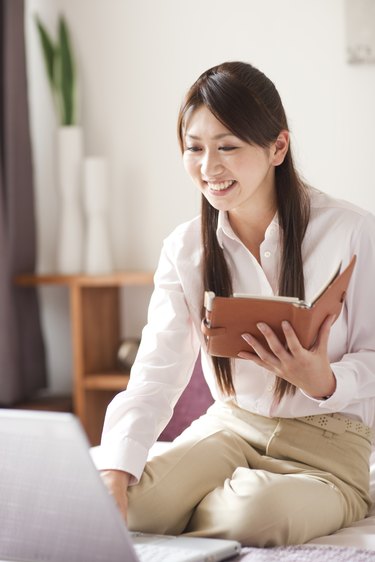 The drag-and-drop interface of the Weebly website editor streamlines the task of creating website elements, such as drop-down tabs; no knowledge of the underlying code is necessary. By default, Weebly displays all the pages on your site next to each other as links on a navigation bar. For a site that has many pages, this can lead to clutter and make it difficult for visitors to navigate the website. To reduce clutter, categorize excess pages as subpages to display them as links on a drop-down list.
Step 1
Sign in to your Weebly account and click the "Edit" button next to the site for which you want to create the drop-down tab.
Step 2
Click the "Pages" button to view a list of existing pages for your website. If you have not created any new pages for the site yet, the default Home, About and Contact pages are the only ones that are listed.
Step 3
Click the "Add Page +" button and select "Standard Page" from the list of options. Type the name that you want to appear on the navigation menu in the Page Name input box. The actual pages that appear on the drop-down menu are all subpages of this main page. For example, if you plan on creating a drop-down menu listing all the recipe pages on your site, use "Recipes" without the quotation marks as the page name.
Step 4
Click the "Add Page +" and this time select the actual page that you want to appear on the drop-down list. The page can be a standard page, blog page, store page or a link to an external page not on your Weebly site.
Step 5
Type the name of the page as you want it to appear on the drop-down list in the Page Name input box. For example, type "Apple Crumble" if the menu item links to a page with an apple crumble recipe.
Step 6
Click and drag the new page icon below and to the right of the main page icon under which you want it listed on the navigation bar. When you release the mouse button, the page name icon snaps into place, indicating that it is now a subpage.
Step 7
Click "Advanced Settings" and then fill out the details for the page title, description, meta keywords and header or footer code, if applicable. Click "Save & Edit" to edit or add actual contents to the page.
Step 8
Add more pages to the site and then position them as sub-pages below the relevant main page to create further entries on the drop-down tab. Click and drag the subpage icons above or below each other on the Pages list to reorder their position on the drop-down menu.
Step 9
Click "Publish" to update your Weebly site with the new drop-down menu.