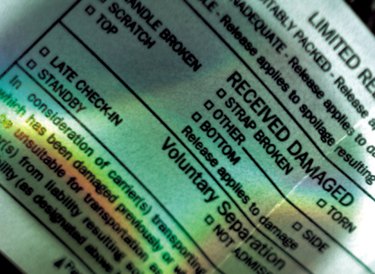 In addition to writing and editing static textual documents, Microsoft Word 2010 can create forms with fill-in-the-blank functionality for users to interact with and complete electronically. This allows several users to complete pre-made forms without needing to print out several copies. Word can create several different types of fillable blanks, including check boxes, drop-down menus and custom entry boxes. The forms will operate on any systems running compatible versions of Microsoft Word.
Step 1
Open Microsoft Word 2010 and activate the Developer tab. This tab has all the functions necessary to create fillable forms, and is hidden by default. To activate the tab, select "Options" from the File menu and click on "Customize Ribbon." Check the "Developer" box in the Main Tabs section and then click "OK."
Step 2
Type or import the form as you wish it to appear without the fillable elements, leaving space to insert them into the document. You may want to use a table from the "Insert" menu to organize the form's contents, leaving blank cells to use for fillable elements. Click to place the cursor at the location you wish to insert the first element.
Step 3
Click the "Developer" tab to display its contents. The buttons used to create fill-in-the-blank forms and other custom elements are all located in the "Control" section of this tab. Click the "Design Mode" button.
Step 4
Click the rich text field or the plain-text field button to insert a blank that users can fill with custom text. The buttons are labeled with a bold and a plain-text "Aa" symbol, respectively.
Step 5
Click the check box symbol to insert a check box that the user may select and deselect at will. Use this item to allow the choice between multiple, non-exclusive items.
Step 6
Click the drop down menu symbol to insert a clickable menu with multiple options, limiting the form to one of a set of pre-defined values.
Step 7
Click the calendar symbol to enter a date entry box. Values entered into this blank will conform automatically to a specified date format.
Step 8
Click a placed form item and then click the "Properties" button to change its attributes. Use this window to give the blank items a default name, add items to a drop down menu's list, specify a format for a date item or change other basic form properties.