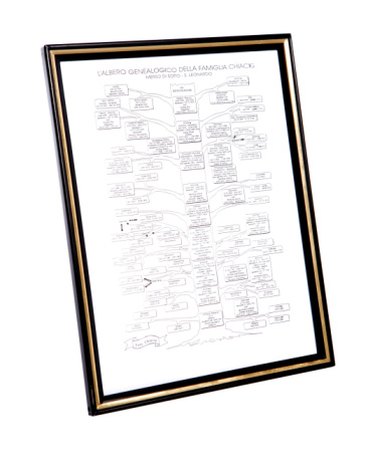 Everyone knows what a family tree is, but most don't know the meaning of a genogram. They are the same thing. No need to make a genogram in PowerPoint from scratch. Microsoft offers a free and easy template to download. This is a great activity to do with the kids. Show the kids their lineage and save it for future generations. Genograms are something that stay with your family forever.
Step 1
Download and open the "Family Tree" template. The template is in "Horizontal Labeled Hierarchy" format.
Step 2
Click on the "Father's Paternal Grandfather" link in the "Type your text here" column on the left. Delete the text and type the real name. Continue until all the real names replace the labels.
Step 3
Click on the label in the "Type your text here" column if you want to add a person. Press the "Return" key. That adds a person to the level. If the person you want to add is the same level as your parent, like an uncle or aunt, click on your parent's name and press the "Return" key. That adds a label underneath to add a name.
Step 4
Click on the "Microsoft" icon in the top left corner. Select the "Save as" button in the drop-down menu.
Step 5
Type the file name you want to save the file as and press "OK" in the bottom right corner of the window. Your genogram is now made using Powerpoint.