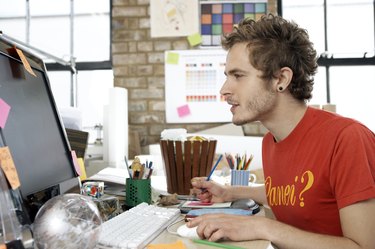 If the human eye can process a maximum of 10 million colors, according to the Photoshop Essentials website, creating an image potentially comprised of 281 trillion colors may seem like overkill. Still, if you're interested in working with so many colors for reasons such as gradients and color matching, you'll have to bump up your design to 16 bit (the Photoshop default is 8 bit), which offers 16.8 million colors. With a few clicks in Photoshop, you can change your image from 8 bit to 16 bit and increase your color options many times.
Step 1
Open Photoshop, click the "File" menu and select "New." Type "16Bit" into the "Name" box. Type your preferred image dimensions into the "Width" and "Height" boxes, such as "8" and "5." Pull down the "Dimensions" menus and select "Inches" for each.
Step 2
Pull down the "Color Mode" menu and select "RGB Color." Pull down the "Bit Mode" menu next to it and select "16 bit." Notice this makes the number in the "Image Size" section of the window much larger. Click "OK" and the Photoshop window opens.
Step 3
Review the top of the Photoshop workspace, where your image title and its zoom size are located. Look for the parenthesis showing (RGB/16) to know you have a 16-bit workspace. Add paints, colors and designs as desired.
Step 4
Change an existing image to 16 bit by clicking the "File" menu, selecting "Open," browsing to the file and double-clicking it to open it in the Photoshop workspace. Note the title and parenthesis say "8" to the right of the RGB option.
Step 5
Click the "Image" menu and select "Mode." Check the "16 Bits/Channel" option on the drop-down menu. Nothing changes in the picture itself, but if you look at the title and parenthesis, it now says "16" instead of "8."
Step 6
Click the "File" menu and select "Save As." Type a new name for the image or a version number to preserve the original 8-bit version.