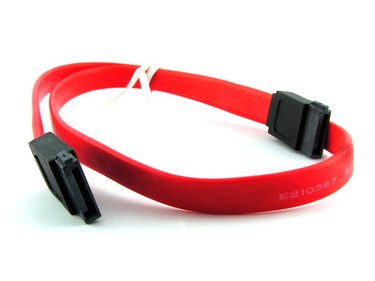 A Serial Advanced Technology Attachment (SATA) cable connects an internal hard disk drive to a motherboard and power supply. The Universal Serial Bus (USB) provides for peripheral and external connections such as mice, keyboards or storage devices. Attaching a hard drive to a USB converter allows you to make your own SATA-to-USB connector. Converting a SATA hard drive to USB permits the external connection of a hard drive to any computer supporting USB 2.0.
Step 1
Install any software included with the converter before attaching the device to your computer. Put on an antistatic wrist strap to protect the SATA hard disk from electrostatic discharge.
Step 2
Find the seven-pin slot located on the converter. Insert one end of the SATA data cable into the slot.
Step 3
Remove the SATA hard disk from its antistatic bag. Insert the other end of the seven-pin SATA data cable into the SATA device.
Step 4
Plug the 15-pin SATA power cable attached to the alternating current (AC) adapter into the 15-pin slot located next to the hard drive's data cable.
Step 5
Connect the the USB cable from the converter to the USB port on the laptop or desktop computer.
Step 6
Plug the three-slot connector at the end of the power cord into the AC adapter's three-prong connector. Plug the power cord into an outlet to power the SATA-to-USB connector.