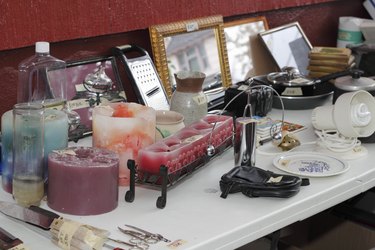 Posting a Craigslist ad for your upcoming garage sale is a free way to drive traffic to the sale. The website has a simple user interface that allows you to fill in fields and post quickly. Writing a specific, attention-grabbing ad increases the effectiveness of the post.
Posting to Craigslist
Navigate to the local Craigslist page for your area. Choose the post to classifieds link in the upper left corner. To post under the garage sale category, select for sale by owner and then garage and moving sales. This brings you to the listing page where you enter the title, location, ad body and garage sale dates. Add images on the next page before reviewing and posting the ad.
Making the Post Attractive
Write a concise, descriptive headline that sets the garage sale apart from others. Instead of just writing the title, "Garage sale Saturday," write, "Multi-family garage sale with furniture, baby gear and tools." Be honest and brief in the ad. A bulleted list of the most appealing items at the sale allows potential customers to scan quickly. Include focused pictures that show key items that will attract customers. Verify that the information you entered is correct before submitting the ad.