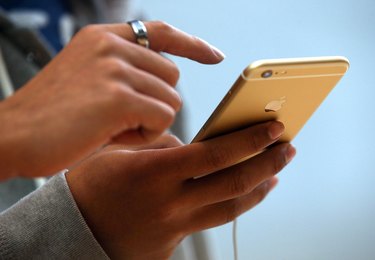 Although the iPhone makes it easy for you to add specific contacts to your "Favorites" menu, you still have to go into the calling application to make a call. With a little bit of work, you can add any of your contacts to a speed dial icon on your Home screen. Once you do this, you can simply tap the icon without actually going into the calling application to make a quick phone call.
Step 1
Launch the Safari app on your iPhone. Once you select this application, you will be able to access the Internet from your iPhone.
Step 2
Tap inside the address bar of your Safari app. Once you click on the address bar, the keyboard will appear at the bottom of the screen and you can type text into it.
Step 3
Type the phone number that you want to dial without dashes into the address bar. For example, you would type 8025551212 for the phone number portion of the browser address. Then after the phone number type ".tel.qlnk.net" and hit "Go."
Step 4
Tap "Cancel" as soon as the Call/Cancel dialog box appears on the screen.
Step 5
Tap the "Action" button. This should be at the bottom of the screen and looks like a rectangle with an arrow on it. Select "Add to Home Screen." Delete the "Favorites" title given to the shortcut and type the name of the contact for this number. Tap "Add."
Step 6
Tap the contact icon on the home screen and select "Call" whenever you want to make a quick phone call.
Tip
If you want to add a speed dial picture to the person that you are calling, add "picurl=http://path.to/photo" to the end of the address. Replace "path.to/photo" with the web address where a picture of that person is located online.
Warning
Information in this article applies to iPhones with iOS 7. It may vary slightly or significantly with other versions or products.