Your wallet is probably already bursting with membership cards to every retailer, restaurant and service shop in your area, but chances are, they're all generic. Whether you're itching to start your own club or want to make your existing group more legitimate, let Microsoft Word give you the VIP treatment. Using Word's existing membership card template, you can create custom club cards that will really stand out.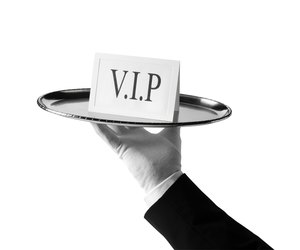 credit: mark wragg/iStock/Getty Images
Step
Launch Word 2013 and type "membership cards" into the search bar at the top of the start screen. Double-click the template that appears. Keep in mind you'll be able to completely customize the cards. This is just to get you started and to help you avoid setup issues.
Step
Enlarge the view so the top-left card is easily visible on your screen. Click into the first generic text area, "Member Name." Highlight the text and type over it with your first club member's name.
Step
Repeat the process to replace template text with your own, including the name of the club and any other information you want to include, such as the club Web site, founding date, address, member nicknames, club motto and more.
Step
Format the text using the Home tab's font color, size, alignment and highlighting menus. For example, the template places the most emphasis on the club name, but you may want to make the member's name the largest item on the card.
Step
Add the club's logo by clicking the "Insert" tab. If you have your own logo already created, click the "Pictures" button, browse to it and double-click it to add it to the club card. Otherwise, click the "Online Pictures" button on the Insert tab's ribbon and browse for something related to the club, such as cats for a rescue organization or books for a book club.
Step
Highlight all of the new text and the image you just added to the top-left card and press "Ctrl-C" to copy it to memory. Move the cursor to the next card on the template, highlight the template text and press "Ctrl-Z" to paste in the real information. Go back through and make changes to this card, replacing the member name and any other details such as date of joining and nickname, so you now have cards for two members.
Step
Repeat the paste process on the other eight cards on the template, making sure to replace the copied and pasted information with actual member data.
Step
Print and save the file where you'll be able to easily access it as you allow more members into your ranks.