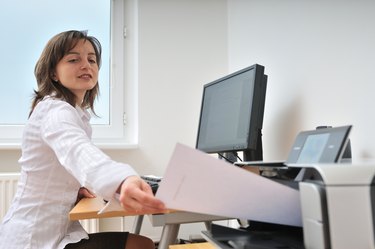 Sometimes your printer may use a font size for a Web page, email or other document that is too small for you to read easily. In such cases, the document may have a specific font size embedded. This is especially problematic for Web pages, since it can be difficult to change the font size before you print a page the way you can in a word processing application such as Microsoft Word. In this case, you can increase the default font size using some advanced settings in the Print dialog box before you send the document to the printer.
Step 1
Open the document you wish to print, click "File" and then click "Print."
Step 2
Select the printer you want to use in the "Printer" drop-down menu. For some applications, "PDF" may be selected by default, which will print your file to a PDF and not to an actual printer.
Step 3
Click the "Properties" button next to the "Printer" drop-down menu after you have made your selection.
Step 4
Click the "Page Options" button and then click "Format Settings" on the next window.
Step 5
Change the font size in this window. You can also change the font type if you wish. Click "OK." Your document should print with the adjusted font size.