Google provides many free services online, including driving direction, business listings and custom maps through Google Maps. You can use Google Maps without a Google account, but creating a free account gives you access to extra features through "My Maps." My Maps on Google is particularly useful for creating maps with multiple locations or points of interest. Google lets you add tags, descriptions and even icons to your locations in My Maps.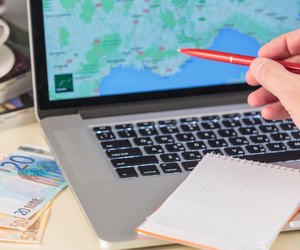 credit: Stanislav_Moroz/iStock/Getty Images
Step
Navigate to maps.google.com and log in to your account. If you do not have a Google account, click the "Sign In" link in the top-right corner of the page, then click the "Create An Account" link on the sign-in page. Fill out the fields and click the "Create Google Account" button.
Step
Click the "My Maps" link at the top of the Google Maps page, then click "Create a new map."
Step
Type a name for your map into the "Title" field and a description into the corresponding field. Click the "Public" button to create a publicly shared map that appears in search results. Click the "Unlisted" button to create a private map that only you and selected people can view. Click the "Done" button to save your new map.
Step
Enter the first address or location into the search bar at the top of the page. Click the "Save to" link under the result.
Step
Select the map you just created from the drop-down menu, then click the "Save" button.
Step
Delete the first address in the search bar, then type the next location or address and click the "Search" button.
Step
Locate the search result that corresponds with your location and click the "Save to" link underneath. Again, select your map and click the "Save" button. Continue this process with each subsequent address or location.
Step
Click the "View Map" link after you have added your last location to view and edit your map. Click on a location, then click the "Edit" button in the left column of the maps page to edit your location, add notes, assign an icon or even insert HTML text.