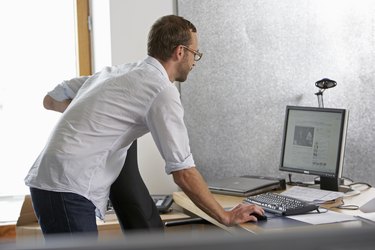 As a free alternative to the industry standard of Adobe Photoshop, GIMP--the GNU Image Manipulation Program--can support performing a variety of graphics design functions. For example, you can merge pictures together, combining numerous photos to feature the best of each and hide the rest. Whether you want to combine two pictures or 20, you can use GIMP to host and edit the separate layers until you have a final product to save as a merged, compressed image.
Step 1
Start the program GIMP and select "File" and "Open" to locate the file that will serve as the main background picture. Once you have selected the correct file, press "Open." To insert additional photos, select "File" and "Open as Layer" before highlighting your selections and clicking "Open."
Step 2
Open the "Layers" toolbar by selecting "Windows" along the top, "Dockable Dialogs" from the drop-down box and then "Layers." This toolbar will help you move from one layer to the other to edit each according to your desires.
Step 3
Select the layer you want to edit by clicking on the corresponding icon in the "Layers" toolbar, and use the functions located in the main toolbar to select portions of the photo to either keep or delete--using tools such as "Rectangle Select Tool," "Ellipse Select Tool" or "Free Select Tool." If you have selected an elliptical portion of an image to keep, for example, you can choose "Select" from the top menu and "Invert" which will highlight the rest of the image instead, letting you press the "Delete" key to remove the unwanted area. You can additionally use the "Eraser Tool" to remove unwanted sections.
Step 4
Right-click on the top layer in your "Layers" toolbar and select "Merge Visible Layers," pressing "Merge" when the pop-up box appears. You now will have one background layer that features all of the visible elements of your previously multi-layered workbook. You can save the compressed image using the picture extension of your choice such as ".jpg" or ".png."