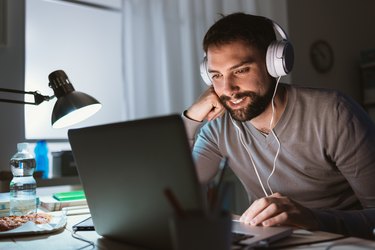 Mixing two songs together is an art, which allows the songs to transition from one to another with no audible pause. This effect is often used in dance music. You can edit the songs in a playlist using the music software iTunes so that they are mixed together in the same way a DJ would do it. This can be a great effect for parties when you just want to leave the music playing.
Step 1
Open iTunes. Click on the "File" button and "New Playlist."
Step 2
Drag the songs you want to mix into the new playlist.
Step 3
Click on the "iTunes" button, followed by "Preferences." Click on the "Playback" tab.
Step 4
Check the "Crossfade Songs" box. Adjust the length of each song that you would like to be crossfaded, up to 12 seconds. Moving the time bar over reduces any down time between songs.
Step 5
Click "OK" to save the changes.