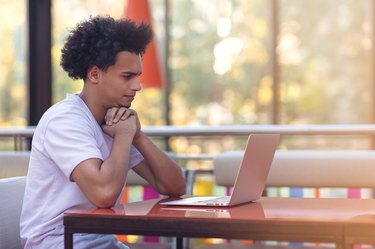 When you get a new computer, losing all your stored data – in particular, your stored passwords and cookies – can cause you problems. However, most browsers have built-in features for exporting the files you want to move to your new computer, and there are workarounds even if you want to use browsers that don't offer much support for doing this. For example, exporting Internet Explorer passwords or those from Microsoft Edge isn't easy to accomplish, but password management software can make it possible.
Exporting From Firefox
Exporting passwords and cookies from Firefox and Chrome is much easier than trying to export IE passwords or anything from Microsoft products.
On Firefox, your cookies, passwords, bookmarks and history are stored on a profile, and you can easily gain access to the folder containing this information. Go to Firefox and click on the three horizontal lines to open the Menu and then select "Help" followed by "Troubleshooting Information." The folder opens up and under "Application Basics" and next to "Profile Folder," click "Open Folder." This is the folder with all your data. Go back up one level to the folder containing your profile folder (called "Profiles") and copy the folder. Paste this onto a USB stick or other removable storage device.
Go to your new computer and install Firefox if necessary. Make sure Firefox is closed and go to "Run" on your new computer by pressing the "Windows" key and "R" and type "firefox.exe –p" to open up the "Firefox – Choose User Profile" screen. From there, click "Create Profile" and "Next" and then enter the name for the profile. You can choose a different location for the folder if you like. Click "Finish" when you're done.
Open this folder in the same way as you did before and insert your USB stick to get access to all your old files. Copy and paste the contents of this folder into the new folder, overwriting any files that have the same name. Now, start Firefox, and your cookies, bookmarks, passwords and more will be on your new machine.
Exporting From Chrome
For Chrome, click the three dots in the top right corner of the window to open the menu and choose "Settings." Click where it says "Passwords" and locate the "Saved Passwords" heading. To the right of this, click the three dots and then choose "Export Passwords." Choose "Export Passwords" again from the dialogue that pops up and then save the CSV file onto a USB memory device or some other form of removable storage.
Open Chrome on your new computer and insert the USB stick or other storage media you used. You need to enable the option to import passwords first, so type "chrome://flags" into your address bar and press "Enter." Search for "Password" and find "Password import." Click on the drop-down menu to the right and set it to "Enabled." Click the "Relaunch Now" button that shows up. The window closes and re-opens. Now go to "Settings" and "Passwords" again.
Click on the three dots beside "Saved Passwords" again and choose "Import." Navigate to the location of the CSV file and open it to retrieve your passwords.
To export your cookies, go to your "AppData" folder by typing "%appdata%" in the search bar and then go to "Local," "Google," "Chrome," "User Data" and "Default." Copy the "Cookies" file and save it on a removable storage device. On your new device, replace the version of this same file with the one you copied.
Export IE Passwords: Workarounds
Unfortunately, there is no simple Internet Explorer passwords location or a built-in method to export IE passwords or those from Edge. In storage, your passwords are encrypted so you can't get useful information from the files without further help. You can use a program like VaultPasswordView software to see your files and export or back them up, but you can't import the file into Internet Explorer or Edge automatically.
The best option if you want to retrieve the passwords from your old machine is to use a password management software like LastPass, LogMeOnce or Password Boss to collect all your passwords in one location. If you install the same extension onto your new Internet Explorer or Edge browser, you can then retrieve all your passwords. This is time-consuming, but the only option for Microsoft programs that doesn't involve editing the registry.