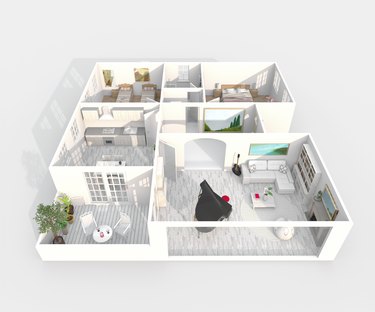 A DWG -- an abbreviation for "drawing" -- file contains vector image data for two-dimensional or three-dimensional computer-aided design drawings. DWG files are created by CAD programs such as AutoCAD, IntelliCAD or DraftSight. At the time of publication, a copy of AutoCAD 2016 costs $4,195 -- but you don't have to purchase any licenses to open DWG files. Autodesk provides two free utilities that open and view the drawings: DWG TrueView and AutoCAD 360 (online).
Opening DWG Files
Open the Autodesk DWG Viewers page, click the Download DWG TrueView button and save the installer on your PC. Launch the program, click File, select Open and choose the DWG file you want to view.
Open the Autodesk AutoCAD 360 page and log in to your account. Click the + button and upload the DWG file to the AutoCAD 360 servers; you can't open a file without uploading it first. If you access AutoCAD 360 from a mobile device, the DWG file must be stored on Dropbox, Box or Egnyte.
Open the Free DWG Viewer page, download the free utility and install it on your computer. Click File, select Open and choose a DWG file to view it.
Download the LX-Viewer utility from SourceForge and install it. Click Open and select the DWG file you want to display. The utility can print the drawings -- press Ctrl-P to print.