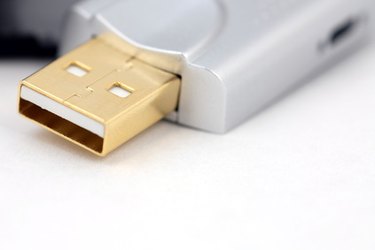 The Lexar brand of USB drives is far-reaching and includes basic storage drives, high-capacity backup flash drives and security-focused drives that come bundled with extra software. However, no matter what type of Lexar USB drive you have, the process of opening the drive and viewing its contents is the same.
Step 1
Connect your Lexar USB drive to a USB port on the computer. Most standard USB drives can connect to any USB port or hub, but if you are using a high-capacity or security-featured Lexar drive, you will need to connect it to a USB 2.0 drive that is part of your computer and not a hub or extension device. See your computer's owner's manual for more on which drives on your computer conform to the 2.0 standard.
Step 2
Go to the "Computer" utility. Under the "Devices With Removable Storage" heading, you will see a small USB drive icon with the text "Lexar" next to it.
Step 3
Double-click the "Lexar" icon. A window will appear with your USB drive's contents.