Your computer uses a number of drives, each serving a unique purpose. The C: drive, for instance, is typically your hard drive, containing your PC's operating system and any data saved directly to your computer. Remember that opening your E: drive requires that it be active, and in most cases will require a disc, such as a CD or DVD, inserted into your computer's CD/DVD tray.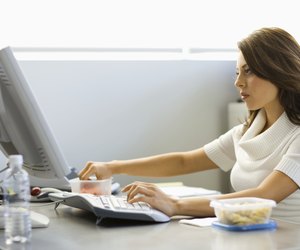 credit: Siri Stafford/Digital Vision/Getty Images
Step
Click the Start button on the task bar.
Step
Click "Computer" or "My Computer", depending on your operating system.
Step
Locate your E: drive on the Computer/My Computer menu that appears. If it's not present, it is currently inactive. Insert a DVD or CD into your computer's disc tray. It will boot up automatically and appear on the list, clearly marked as the E: drive, unless your E: drive is assigned to one of your USB ports, in which case you must insert a flash drive.
Step
Right-click the icon for the E: drive when it appears and select "Open" to explore its contents or run the software contained on the disc.