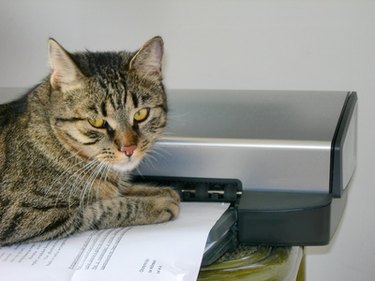 Refilling Lexmark cartridges is one way to avoid costly replacement cartridges and save a few dollars. However, when you refill a Lexmark printer cartridge, the chip on the side of cartridge still "tells" the computer the ink level is low. That is because simply refilling the cartridge with ink does not return the chip to a full setting. This low ink level warning is overridden using a simple procedure that takes a few minutes of your time.
Step 1
Install the new cartridge by opening up the access cage and pressing the cartridge into the print carriage.
Step 2
Turn off the printer. Press the ready and return button simultaneously as you turn the printer back on by pressing the power up button. Watch the display and release the buttons when the printer informs you it is performing a self test.
Step 3
Navigate to "maintenance count" by pressing the menu button and highlighting this option. Press the "reset" button in this option to set the counter back to zero.
Step 4
Depress the return button to exit this part of the diagnostics and return to the normal menu. Press the reset button again to exit to the printer's normal functioning mode.
Step 5
Test print a page by opening a file and choosing "File" and then "Print." The ink levels should return to the full reading.