Painting is one of the quickest fixes when it comes to home remodeling. Relatively inexpensive (depending on the size of the room) and pretty easy, a good paint job can completely change the house. That concept holds true even for furniture. An old TV stand can be repainted to either match the room, or it can be repainted and used for something completely different (like a bookcase). Whatever the color or use, painting the table can turn an old TV table into a brand new one that you'll love.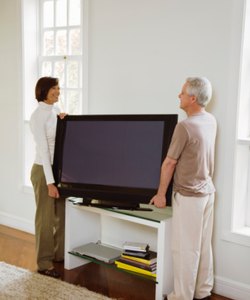 Step
Take apart the TV table with a screwdriver if possible.
Step
Place the TV table on top of cardboard to protect the floor from the paint.
Step
Pour the primer into the paint tray. Primer will seal off the previous surface, and help the new paint adhere. Using primer can also eliminate the need for multiple applications of paint.
Step
Dip the paint brush into the primer and stroke it onto the table. Do not over apply the primer -- too much can create an uneven surface.
Step
Start painting at the top of the table working your way down (unless the table is not assembled, in which case you can start with any piece).
Step
Allow the primer to dry for a full 24 hours before beginning to paint.
Step
Pour the desired color of paint into a paint tray.
Step
Dip a paintbrush into the paint and stroke it onto the table. Again, start at the top of the table, working your way down.
Step
Wait a full 24 hours for the table to dry before either adding another coat, reassembling the table, or moving it off of the cardboard and into the living space.