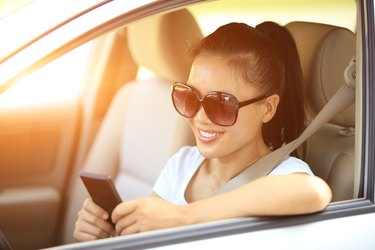 The OnStar FMV in-vehicle communication system lets you summon help quickly in the event of a breakdown, car crash or other auto emergency. Connecting a cell phone to your vehicle's OnStar system gives the added benefit of hands-free communication, but you must pair the devices via Bluetooth first.
Step 1
Press and hold the Talk button on the steering wheel for two seconds. Say "Bluetooth" loud enough for the OnStar system to detect. The system then says "Ready" and a tone sounds.
Step 2
Say "Bluetooth" and wait for the system to reply with "Bluetooth Ready." Say "Pair" and wait for the system to reply with "Please start a search on your Bluetooth phone." Make note of the four-digit PIN that the system audibly communicates.
Step 3
Enable Bluetooth on your cell phone. This procedure varies depending on the make and model of the phone. Check your phone's user manual for the instructions on enabling this feature.
Step 4
Follow the procedure to add a device for your cell phone. Your cell phone scans for devices to pair with. Select "General Motors" from the list of available devices and enter the four-digit PIN number when your cell phone prompts for the passcode.
Step 5
Name your cell phone device connection when prompted to do so on your OnStar system. The system confirms the pairing of the phone.