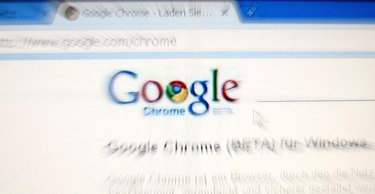 Google Chrome sometimes needs permission to get through the Windows Firewall to work correctly, particularly if it needs to download program updates while you're using a public Wi-Fi hotspot rather than your usual home or office network. Firewalls help prevent malicious software from using inbound and outbound connections to transmit data that could compromise your computer. Adding Google Chrome to the Windows Firewall as an allowed app automatically gives it all the permissions required to successfully interact with the Internet.
Step 1
Swipe or point to the right of the screen, and then click or tap the "Search" icon on the Windows charm bar.
Step 2
Type "Windows Firewall" (without quotes) in the search input box. Press the "Enter" key. Select "Allow an app through the Windows Firewall" from the Search results pane.
Step 3
Tap or click the "Change Settings" button, and then select "Allow another app."
Step 4
Select "Google Chrome," and then choose "Add."
Step 5
Select "OK" to finish adding Google Chrome to the Windows Firewall.
Warning
The information in this article applies to computers using the Windows 8.1 operating system. It may vary with other operating system versions.