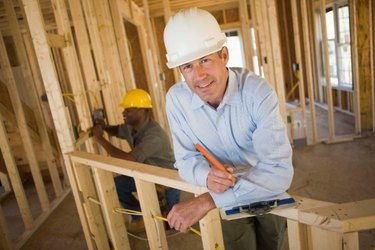 Having surround-sound capability in multiple rooms is a pleasing plus that bolsters the home's resale value. Increasingly, being able to switch DVR and satellite content between TVs in different rooms opens new venues for home-theater surround sound. If you're building a new house, run wire for surround sound along with CAT5 for communications and RG6 coax for video. Go through the studs before the drywall goes up: now is the time. Installing wall-plates where speakers or equipment will go is smart and esthetically pleasing. As long as the right wiring's in place, you can think about the terminals later.
Step 1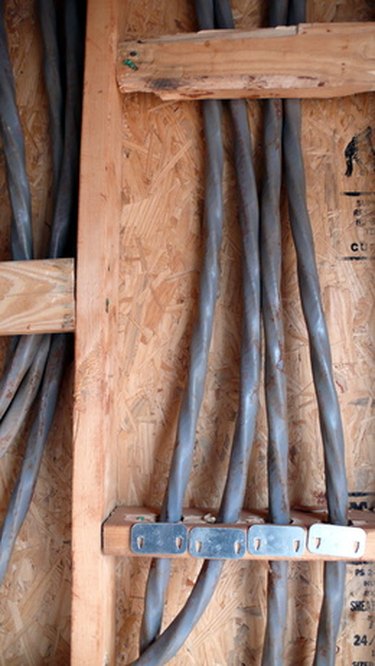 Purchase class 2 jacketed speaker cable to be configured in 16-Gauge stranded, twisted pair for lengths 50 ft. or less. Use 14-Gauge for lengths 50 to 100 ft, and 12-Gauge for runs over 100 ft. Run 4-conductor for functional flexibility, especially from equipment closet to each room's volume control. Run 2-conductor to each speaker location. Run CAT5e wiring for infrared control systems.
Step 2
Measure point-to-point for each run, including one foot extra at each end, and vertical runs. Plan a speaker cable run between proposed equipment locations and every speaker. For 5.1 point surround, plan runs for center, left and right front, as well as left and right rear and subwoofer. If using a powered subwoofer, run line-level wiring.
Step 3
Drill 1-inch holes in every stud along each run, at least two feet away from AC wiring. Audio wire may cross AC wire at 90-degree angles.
Step 4
Cut wire according to measurements in Step 2 and thread it through the studs. Finish each run by fastening the wire bundle to the last stud drilled with a cable tie.
Things You'll Need
250 to 1000-ft. roll of class 2, jacketed 4-conductor speaker cable

250 to 1000-ft. roll of class 2, jacketed 2-conductor speaker cable

1-inch flat spade-style boring bit for wood

Electric drill

Cutting pliers

25-ft. contractor's measuring tape

1-ft. heavy-duty cable ties
Tip
Run 4-conductor class-2 speaker wire to every location in every room where you are likely to install equipment. Use 12-gauge wire for main theater speakers, thinner (16 gauge) wire for coax ceiling speakers. Leave one foot of excess at each end. Instruct the drywall crew to leave holes for wire bundles. If placing line-level-connected equipment at opposite ends of a room, run stranded, shielded twisted pair to terminate in RCA jacks later.
Warning
Do not run audio, video or communications wire in parallel to standard AC power wiring. It will induce noise. Test wiring right after the drywall goes up. Waiting until later will cost you extra.