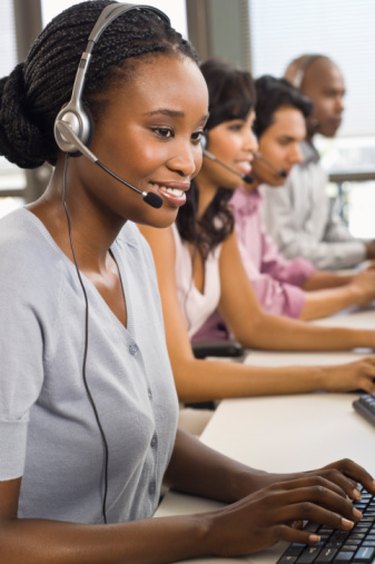 The screen shot is a mainstay on PCs. Nearly every modern keyboard, ranging from standard to multimedia keyboards, includes the "Print Screen" key that carries out the command which captures an image of the screen. Screen shot users are put in momentary limbo after depressing the key, because nothing in the way of a window or dialog box shows on the monitor to confirm the shot has been captured. However, you should know that the invisible image is stored in the background in a feature called "ClipBoard" in Windows. You can use another readily available Windows application to retrieve and print out that elusive screen shot.
Step 1
Arrange items on the computer screen that that you want to capture using screen shot functions.
Step 2
Press the "Print Screen" key at the top of the keyboard to capture an image of the Windows desktop. This is the point at which the screen shot is automatically and temporarily stored on the Windows "ClipBoard" operating in the background.
Step 3
Click "Start" on the task bar at the bottom of the desktop. Type "WordPad" in the search box at the bottom of the "Start" menu. Press "Enter" to open this application.
Step 4
Move the cursor to the blank WordPad document. Press the "Ctrl" and "P" keys on the keyboard to paste the captured screen shot as an image in the document.
Step 5
Click the blue "menu" icon in the top left corner of WordPad, next to the "Home" tab. Choose "Print" and then select "Print" from the submenu. Click the "Print" button in the dialog box to print out the screen shot on paper.
Tip
The equivalent application in Apple Mac OS X operating systems is "TextEdit."
Click the "Save" button on the menu in WordPad to save a digitized file of the captured screen shot to the hard drive.
A variation on the screen shot is only capturing the window for an active program, rather than the entire Windows desktop. Press the "Alt" and "Print Screen" keys simultaneously to capture the window only. (see References #4).
Alternatively, use the Windows "Snipping Tool" to capture a specific portion of the screen, such as a sentence or photo, rather than having to capture the entire screen.
Read the computer's user manual to learn how the manufacturer configured the keyboard, if you are having difficulties find the "Print Screen" and "Control" keys.