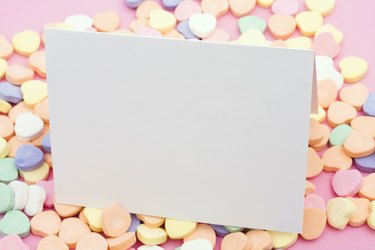 Whether you're printing postcards for your upcoming wedding, cards for a club or business, or something else, don't make the mistake of simply plugging the card stock into your printer and expecting everything to work properly. First of all, your HP printer may not be equipped to handle all types of paper. Second, you'll need to adjust some settings to ensure a quality print job.
Paper Type
The first step is to determine what type of paper your printer supports. Some printers may not be equipped to handle the heavy weight of card stock, and trying to print with that type of paper could do damage to your printer. HP recommends reading the documentation that came with your printer, including the owner's manual or user guide, to find out what types of paper your printer can support. LaserJet and OfficeJet printers can typically handle card stock, though others may not. You can also check the printer's data sheet; look for the "Media Weight" to find out what weights of paper it supports, and then compare that to the paper information the packaging of your card stock. After reviewing the recommendations, purchase the recommended card stock.
Adjust Printer Tray
Now that you know your printer can support card stock, adjust the printer settings to essentially inform the printer and computer that you're using heavy paper. Your owner's manual will have more specific instructions, but typically, you'll first have to adjust the printer tray. On the printer's control panel, click "Select" to open the printer menus, and then select "Paper Handling." Scroll up or down the menu to find "Tray." Select "Heavy" or "Card Stock" from the Tray menu. Then close the menus by pressing "Resume."
Printer Settings
You'll also need to change your printer settings. With the document you want printed open on your Windows computer, click "Print" from the File menu. Then click "Properties," and select "Paper" or "Paper Quality." Select "Card Stock" or the weight of paper you're using from the list of paper types, and then click "OK."
Feed the Paper
Some HP printers may allow you to load multiple pieces of card stock into the tray, but to get the best quality, you may have to load the card stock manually. Look at the card stock to make sure there are no nicks and the paper is not curled or otherwise damaged. If it is, the paper may not feed properly. Also check your printer's documentation to find out whether the card stock needs to be fed through a particular tray on your printer. On the LaserJet 4200, 4300 and 9500 series printers, for example, card stock needs to go through Tray 1. Hand feed the first card into the tray, review it for quality, and then try adding a stack of cards to the tray. If you have problems, hand feed each card.