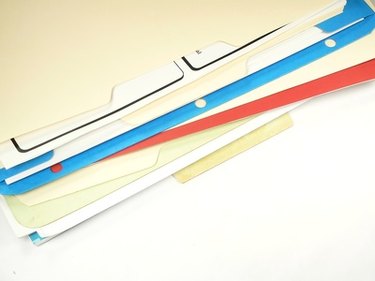 If you're faced with a large pile of file folders that need labeling, you could find yourself with finger cramps if you try doing them all by hand. Perhaps typing labels is similarly unappealing. Instead, you can attempt to print the words directly on the tab of each folder in your home or office printer. You need a word processing program and a little patience to get this method to work. Make sure you have some extra folders to print a few trial runs before working on the actual folders.
Step 1
Open a file folder and measure the exact size of the folder from the tip of the tab to the very bottom of the other side. Also, measure the distance from the left side of the open folder to the beginning of the tab in inches.
Step 2
Load your word processing program. Choose "Page Size" or the similarly-named option on your toolbar to change the size of the document to match the dimensions of the open folder.
Step 3
Position your cursor on the very first line of the new word processing document. Use the distance to the folder tab that you measured to determine where to position your cursor. Type your short title for the folder tab. Keep the title under 15 characters so it will fit on the tab.
Step 4
Click "CTRL+P" to open the printer dialog box. Choose "Properties" to modify the size of the printout to match your document size (look for "Custom" size options). Change the paper type to a card stock or specialty paper option. Manila file folders are commonly made of a light to medium-weight paperboard similar to card stock paper.
Step 5
Secure a standard piece of paper with a piece of tape behind the side of the folder that contains the tab. Insert the folder into your printer's manual feed tray. (Do not attempt to put it in a tray.) Click "OK" in the printer dialog box to print.
Step 6
View the folder printout. Adjust the words in your open document as needed so the words fit perfectly on the tab. Try again, if necessary.