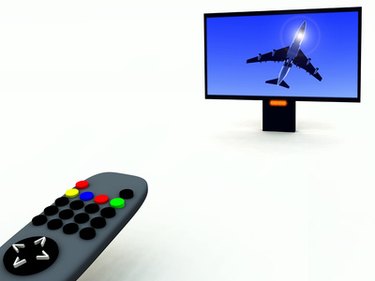 Brookstone is a gift store that sells products ranging from electronics to home fitness equipment. Brookstone offers one universal TV remote called the Flik Universal Remote. This remote control can be programmed to control up to six separate electronic devices. If you own a Brookstone universal TV remote, you'll certainly want to know how to program the remote to work with your various devices.
Step 1
Turn on the electronic device that you want to control with the Brookstone remote.
Step 2
Locate the "Set" button and the "Power" button on the remote. The "Set" button is located directly below the "0" button. The "Power" button is located in the top right corner of the remote.
Step 3
Press and hold the "Set" button and the "Power" button simultaneously. This illuminates the LED icon located at the top of the remote control.
Step 4
Press the button for the device you want to control. You can choose from "TV," "VCR," "DVD," "CAB," "SAT" or "AUD." The LED icon at the top of the controller will flash once.
Step 5
Point the remote at the device you are trying to control, and press the "Channel Up" button on the remote control followed by the "Power" button. This performs a quick search for the device's code.
Step 6
Press "Enter" to store the code if the device turned off. If the device didn't turn off, repeat steps 5 and 6 until it turns off.