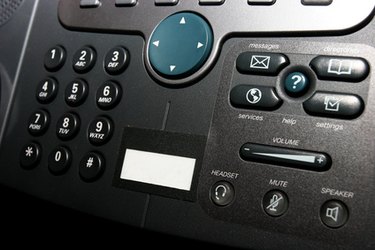 PBX is a term that refers to a Private Branch Exchange. A PBX is a telephone switch used to provide communications for businesses that allows users to share outside phone lines, access telephone features and call extension to extension. Phone systems are used for businesses from a few dozen employees to tens of thousands. Programming a PBX can be relatively simple on small systems and very complex on large systems. There are a few common steps required to program a PBX.
Step 1
Log in to the PBX administration portal with a computer and connectivity software. Most manufacturers supply this software for the PBX with purchase of the system.
Step 2
Set up the dial plan for the system. The dial plan tells the system what the extension numbers are to begin with and how to get an outside line, feature access codes and the number for the attendant console. Set up the number 9 to gain an outside line and 0 for the operator console.
Step 3
Configure the system parameters and feature access codes. System parameters set up music on hold, caller id, system alerting and various call treatment options. Feature access codes are numbers you can dial to access system features such as conferencing, speed dialing, call park, call coverage, call pickup and call transfer among others. Use one to three digit numbers and make sure they do not match any portions of numbers you have planned for extensions.
Step 4
Set up Class of Restrictions and Class of service tables.These tables set up groups of permissions to assign to users. The permissions are features such as long distance dialing, call forwarding availability, priority calling and others. Restrict long distance calling to only those users that need access with these tables.
Step 5
Configure the trunks and outbound routing. The trunks are the phone lines used for inbound and outbound calls connected to the local exchange carrier, sometimes referred to as the telephone company. Set them up in groups. Trunk groups are trunks or phone lines that service the same types of calls. Configure them in local dialing and long distance groups. Set up the routing so the outbound calls travel out the least expensive path.
Step 6
Configure the software for telephone sets in the PBX. Set up the ports, types of phones, name displays, feature buttons, line appearances, calling permissions and speed dialing buttons for each telephone you want to install.
Step 7
Set up other services such as analog fax lines, conference phones, video conferencing, paging, music on hold, IP connectivity and services for call center agents. Call center services include inbound routing, hunt groups, call vectoring, agent identification numbers, login buttons and call waiting indicators. Hunt groups are the numbers that customers call in for service; call vectoring is the detailed call flow instructions between the hunt group and the agent.
Things You'll Need
Computer and connectivity software

PBX users manual
Tip
Each vendor has different methods for each programming activity.