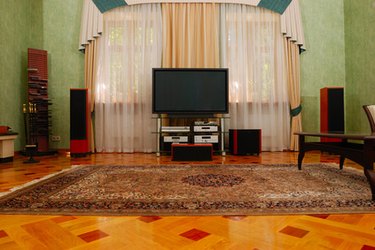 Onkyo is a Japanese-based electronics company whose history dates back to 1946. They currently manufacture a wide variety of products for the home audio and video markets. Among those products is a line of remote controls to replace a lost or broken remote or to simply combine the functions of different devices' remotes into one. Programming an Onkyo remote is a simple process, with the necessary device codes.
Step 1
Locate the number code for the device (TV, DVD player, etc.) that you wish to program the remote to. A list of codes for all the major makes and models of components should be provided with the Onkyo remote; check Onkyo's online support page to find the list that accompanies your particular remote if you do not have one.
Step 2
Hold down the remote mode button for the intended device (DVD, VCR, TV, etc.) and press the "Display" button (or "Standby," on some models) for three seconds.
Step 3
Use the number keys to enter the four- or five-digit (depending on the model) code for that device within thirty seconds. Some makes and models of components have more than one option on the list; try another if the first one does not work. The remote indicator will flash twice if the code has been accepted.